What is Cicero?
Cicero is a plant-wide notification system that simultaneously broadcasts alerts across multiple platforms, cutting down on reaction times and helping to keep employees safe.
Targeted

Messages can be targeted to specific areas of the plant, so workers only receive the alerts that apply to their stations.

Flexible

Cicero communicates with your control software and can be used without a PAS.

Fast

Alerts are automatically generated and simultaneously broadcast across multiple platforms, so operators are immediately notified of critical situations.

Reliable

Greatly reduces the margin for human error when managing critical information.

Always on

Cicero is an autonomous system that runs 24 hours a day, 365 days a year.
Automated

Once the system is programmed, alerts are generated and broadcast in response to real-time data, without the need for human intervention.

Multilingual

Supports multilingual messaging using a synthesized voice, a real voice, or even a combination of the two.

Accepts multiple input sources

Cicero can process alert requests from web services, sockets, web pages, or any device and can be linked to your control system.

Broadcasts to multiple platforms

Messages can be broadcast via email and text, speakers and public address systems (PAS), displays, or any other platform using APIs.
Cicero connects to a plant's process control system to assess operating situations in real time. The system then automatically generates and sends out alerts and notifications to the people who need to receive them, whether it's across an entire plant or to specific areas or operators. Priority levels are assigned to ensure that in an emergency, operators receive the information that's directly relevant to them and aren't flooded with alerts. The system can also be used for important but non-critical messages that require the attention of certain workers in the plant.
In critical situations, information needs to be communicated as clearly as possible. That's why Cicero supports multilingual messaging using a synthesized voice, a real voice, or even a combination of the two. The alerts can be broadcast via phone, email, text, Internet, and PAS.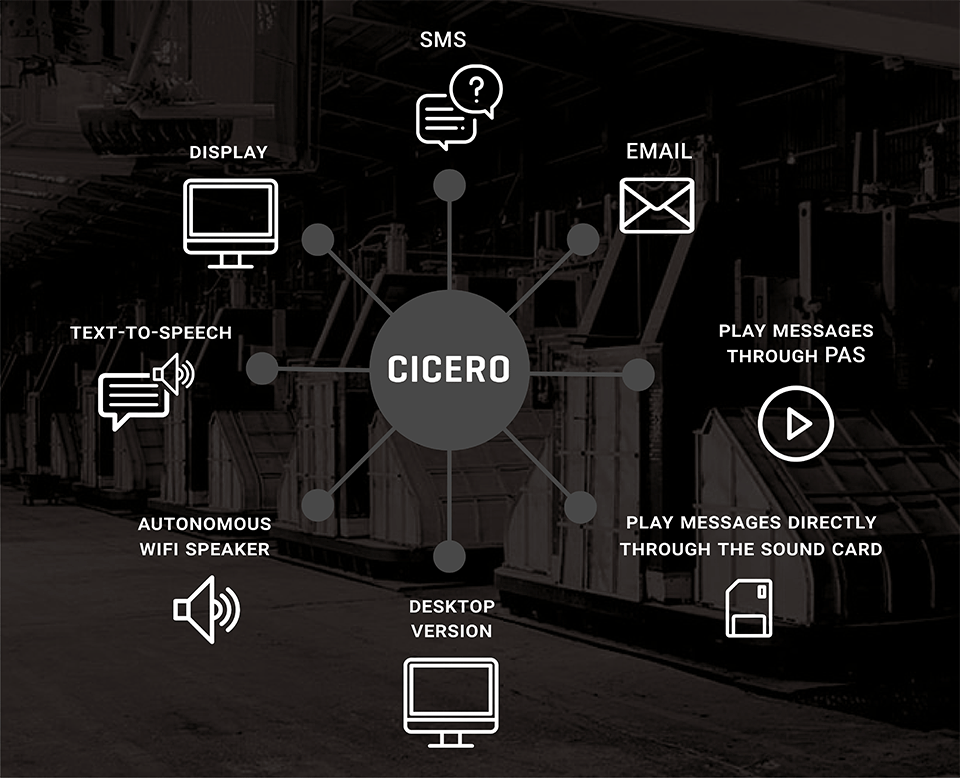 Cicero is an automated solution that's specifically designed for aluminium production sites and other industrial facilities. The system is always on, 24 hours a day, 365 days a year. So no matter what's happening in the plant, workers are alerted to critical situations the moment they occur.